It's so refreshing to look back at a year when it's been a good one!
We started the year with Innoventures as a concept – will it work? Can we and did we put the right structure around innovation? What we accomplished through the year could represent a case study where strategy and execution were aligned, and the Innoventures system was flexible enough to adjust to changing times.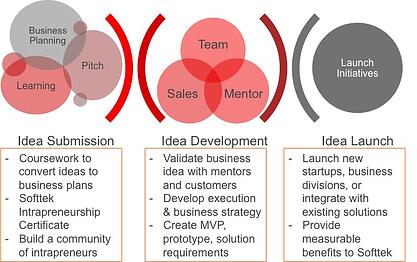 Idea Submission:
Launch: In March, we had launched our Idea Submission stage. This stage allowed Softtek associates to send us their ideas within three specific areas of focus. The areas of focus, aligned with Softtek's strategy, included productizing existing solutions, creating a footprint in the mobile enterprise space, and launching software solutions geared towards company CMOs.
Program: During the week in which we accepted ideas, we received over 100 applicants. About 60% of the participants then went on to develop a business case through the Innoventures coursework and platform. Ideas slowly found a market, a form, and a platform to promote it within the Softtek territory.
Judging: Our top-20 ideas, selected by thought-leaders across Softtek, showcased the talent and quality within the company. The 20 ideas subsequently pitched to Softtek's top-management, and Innoventures received its first class of 9-initiatives for the bootcamp. The 9-ideas reflect Softtek's espoused business strategy and
Bootcamp:
The Ideas: The 9-ideas represent a mixed bag of opportunities. Initiatives like providing global monitoring of IT services, agile consulting and solutions, or data management may find a perfect fit in Softtek's existing solutions map. Mobile initiatives perhaps extend the opportunity to launch a mobile solution for Softtek, providing enterprise advantages. The 'out-of-the-box' solutions in public transportation or HR provide Innoventures with an opportunity to step outside its comfort zone to launch contrasting and diverse ideas in new markets.
Mentors: For Innoventures, identifying the right mentor for each initiative was the trickiest part. The mentor had to understand the market, the solution, and also needed to possess insights and bring fresh ideas to the table. Finding the right person to commit, both in terms of time and emotions, took significantly longer than anticipated. However, looking back, it was a required and wise investment of time. Our mentors are personally invested in each initiative and believe in the potential of the ideas they advise.
Development And Current Status: The ideas are identifying a MVP to rollout, customers, and a general sales launch strategy. The ideas are supported not just by their mentors, but also by country heads and leaders across the organization. Intrapreneurs are evaluating several growth and sales models. In the next two months, the ideas will need to find a home and structure to move it forward.
The Hope
There's hope that at least three initiatives will move forward in full throttle with a solution that will find a unique place in the market. These ideas will set the tone for future Innoventurers – for new ideas to form a pipeline of exciting solutions. Softtek, we hope, will emerge as a 'thinking-company,' – one that is unafraid to take on new challenges and find opportunities when none existed.