One of the challenges related to corporate innovation, widely known but frequently ignored, is finding a channel to market or sell an innovation. In the urgency and excitement to set up an innovation center, what seems most exciting are ambitious ideas that could reform or redefine a company. However, reality is that these ideas with ambition are also ideas that are homeless within the structures of an established organization.
After completing a full-blown Innoventures cycle, finding and developing ideas with value and prospect within Softtek, it seemed that the basic process of seeking ideas needed adjustment. This year, Softtek's strategy will be to hone in on challenges seeking ideas. These are challenges with a defined home and searching for specific solutions. In other words, Softtek is seeking out solutions to specific, defined, and known problems within the corporation. Softtek is seeking intrapreneurs with the capabilities and knowledge to address those challenges head-on.
Of course, the innovation component, to some extent will be sacrificed by this change. But, in the long run, in order to build a brand that is capable to transferring ideas to the real world, it seemed that the change was necessary. In the long run, after years of successfully deploying Innoventures formed solutions in the real world, one would expect that the onus of identifying challenges, strategies, and ideas will be shifted entirely to the participants of the program. In the interim, to create a record of credibility and success, the focus has been narrowed.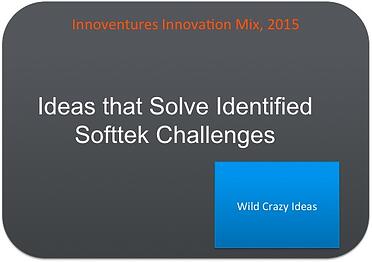 Internally, the areas of focus for 2015 have been identified. Innoventures is currently engaged in finding specific challenges within the specific areas of focus. In this year, 80% of the ideas coming through the doors will have to tackle these identified sets of challenges. At least for this year, Innonentures will not be open to all wild crazy ideas, but of course there is room for that, too!